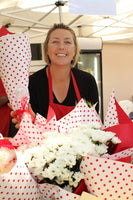 Phoebe's Flowers, Food & Home
Based in Moree in northern NSW, I have been operating from a bricks and mortar storefront, "Phoebe's" previously known as "A Tasty Surprise" for nearly ten years. I started by stocking local products and hard-to-find gourmet foods that I knew my local customers would want to use and enjoy in their culinary adventures. As time moved on, and in response to customer requests, I diversified into homewares, flowers and catering. When someone asked "where do I find….?" they invariably said "go to Phoebe's" so the time came for a new name. 
Welcome to Phoebe's – Flowers, Food & Home. I invite you to come inside and discover a food lover's paradise, including my bespoke signature range, it really is a tasty surprise!
Love,
Phoebe